About Me
I was born in Buffalo, NY in 1977. My family traveled quite a bit while I was growing up. I've lived in New York, Alabama, Massachusetts, Maine, Texas, Rhode Island, California, and Virginia.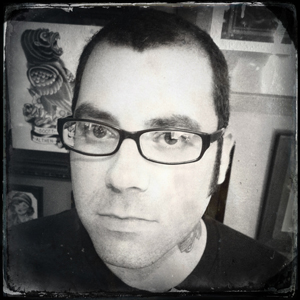 I've been involved in art in some form or another all of my life. When I was younger, I was most interested in portraiture and realistic art. Soon, I developed an obsession with comic books, in which I spent every free moment of my time reading, drawing and studying.
Later, in 1994, mostly due to my involvement in the South Texas punk rock scene, I became interested in tattooing. This replaced my obsession with comic book art. Tattooing soon became the main focus of my entire life.
I began tattooing in 1997, narrowly escaping a future filled with washing dishes and working overnights in convenience stores. I've been very lucky to work with some great tattooers over the years who really helped me grow as an artist, such as Rob Young, Mike Beauchesne, Forrest Curl, Bill Canales, and Adam Turk.
I enjoy illustrative tattoos that tell a story or invoke emotion. I want to make my tattoos built to last, bringing influences from classic Americana, Asian culture, and to carry on with whoever wears them, timelessly
I currently reside in Richmond, Virginia.
If you'd like to get tattooed, or have a question, please drop me a line through the "contact" page.